Drummed
Executive Flight Centre can provide drummed fuel logistics to your non-airport operation. We have years of experience to help you manage any specialized or critical operation fuel needs through our diverse distribution and inventory network.
Mobile-Tankers
Our Mobile-tankers are double-walled and built to store volatile or hazardous liquids, such as JET A1 or AVGAS and secure them in a location that before may have not been safe or accessible. Built with a complete fuel cabinet and diesel generator they offer hassle-free fuelling capabilities and reload system. Fuel can be transloaded or used directly into plane with over-wing or under-wing refuelling options to provide fueling flexibility for helicopters, road-building equipment, construction, exploration and/or forestry equipment.
Specifications as Designed & Manufactured:
Carter Bottom Loading System – Auto Shutoff (overfill protection)
Electric Rewind Hose Reel with Aviation Construction Grade Hose
Auto Air Eliminator and pressure Relief Valve
Emergency Shut Off Control
Cabinet Storage for Lubricants, Tools and Other Accessories
25,000 L and 40,000 L capacities
Aviation certified fuel forwarding pump systems
Transport Canada TC 406 Specifications
US DOT 406 Specifications
CSA B836 Standards compliant for storage at aerodromes & airports
UL/ULC compliance for 110% spill containment
US EPA 40 CFR Part 112, Spill Prevention Control and Countermeasure (SPCC) compliant
Environment Canada secondary containment compliant 
Need to place an order, try ordering your fuel online.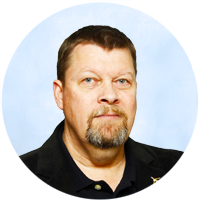 Mike Cuncannon
Fuel Sales and Distribution Manager (AB, SK)
Phone: 403-291-8070
Toll Free: 1-833-EFC-FUEL (332-3835)
Mike Joined Executive Flight Centre in 1999 and is currently the Fuel Sales and Distribution Manager. Mike is responsible for bulk sales, pricing, purchasing, and distribution of aviation fuels at EFC. He has a wealth of aviation experience dating back more than 40 years and covering various roles including operations, logistics, customer service, sales and marketing, and accounting. His career with EFC began as an aircraft refueling technician and he was subsequently promoted to refueling supervisor. In 2006, he transferred into our head office, where he fulfilled numerous roles and ultimately moved into his bulk sales and logistics role.
Since starting at the Calgary International Airport in 1977, Mike has worked for Tri-L Airport Services, Air Canada, ESSO Avitat, and EFC.
.
KEEPING BUSINESS IN THE AIR FROM THE GROUND...UP!